I am always seeing it.
The destruction.
The despair.
I can feel the miry clay, the slimy pit, the twisted metal, the human and animal waste. My bare feet toughened, calloused...my heart feels it.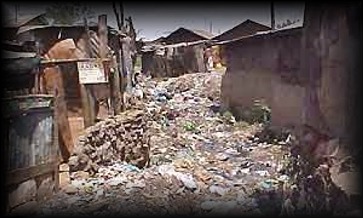 Festering waters coursing down a dead river bed. Nothing lives in this river where children dip rusty cans to quench their thirst.
Bellies empty, grandma puts water on to boil, hoping God will provide the corn meal for ugali. But the water boils, evaporates, and vanishes. The family sleeps, too hungry to dream...starving for hope.
Minds devoured by cha'ngaa and glue, a momentary escape. And as they lay in the streets, in the squalor, God speaks...
"My image is on this one. My image is here...in Mathare Valley. It is enscribed on the faces, in the souls, of the 800,000 existing and dying, starving and wasting. I have placed my image on these. They are of great value to me."
And when my eyes close, I can see them. There will be no sleep for me, no rest tonight. I ache all the way through as I remember the images I have seen, the story I have heard, the words that snapped me out of my comfortable, suburban, I-already-sponsor-too-many-kids, mentality.
I had a knowledgable guide through the streets of Mathare Valley, Kenya's second-largest slum, a part of Nairobi. Many years spent Jey Mbiro wending his way through the maze of ramshackle homes, constructed of tin and carboard, searching for a way out of the labrynth of poverty. I sit mesmerized in Sunday School, in my air-conditioned sanctuary, on my padded seat. I hear his tale of life in Mathare three times that day...and I need all three.
Jey was born in Mathare Valley. He lived with his mother and his younger brother. His real dad was not a part of his existence. "I didn't even know about my dad until I was 22," says Jey. "The man I thought was my dad, the man living with my mother, was not my dad." Staying alive was Jey's dream. Jey tells us, "Everyone who got out of Mathare left and never returned, not wanting to be associated with it. There were no role models for young people. Our role models were the thieves, the drug dealers, and the prostitutes."
Jey's mother did everything a mother could to provide for her children...all three in the family worked to sell the cha'ngaa, or local brew. That was not enough. His mother eventually attempted suicide. After this, life was even more desperate. Because of his mother's instability, Jey was sent to live with his grandmother. "She was a woman of faith," Jey remembers. "There were 15 of us to feed, because all of my aunts were in the same condition as my mom." Jey recounts a precious story of his grandmather's faith. His grandmother sold traditional food in an effort to feed the family, but there was not enough left over to feed them all. "She would tell us, 'Go put on the water to boil.' We would reply, "Grandma, there is no corn meal for the ugali (a traditional meal costing about $1 to prepare that would feed all 15).' She would tell us to put the water on anyway. Many times, someone would come and bring us the corn meal from nowhere and we would eat with joy. But other times, no one came, and the water would boil, and boil, and boil, until it was all gone. Then my grandmother would tell us, 'Go to bed. There is no food today.'" One time, Jey remembers going to school and having a violent reaction when he tried to fill his empty stomach with water.
It was in these days that Jey and his family went to the streets of Nairobi. His brother became involved in a gang, and when Jey could not make a living by begging, he began stealing. At age 9, Jey was arrested and taken to prison. "A Kenyan prison is not like an American prison. It is the worst place imaginable. Any food is rotting. There are many diseases and evils. I cried out to God in prison. I asked Him why I should be born here, in Africa, why I should be born to poverty. It was then that I told God, 'If you are real, make a way for me.'" Jey made it out of prison. He tells of life when he returned home. "It was no different. Life was the same, maybe worse. It was a dark time."
This is where the "but" in the story comes in. "But it was at this time that people came to the school and told us that Compassion International was coming through to resgister children at a project. We had all heard of Compassion. It was a joyous day for me when my teacher called for me to be registered." After Jey joined the project, he waited many months for a sponsor. Many months passed. The children would all gather in one room and wait to see if their name was called because they had been sponsored. Jey twists up all his fingers and says, "We used to cross ALL of our fingers and hide them behind our backs so that no one would see. One day, my name was called. I finally had a sponsor."
Compassion International is the tool God used to deliver Jey Mbiro from poverty. "Compassion gave me three things. It gave me an education. It gave me the Word of God. And it gave me love. No one ever told me they loved me. We were too busy trying to survive. But in letters my sponsors were the first people to tell me that they loved me, and I believed them. The most important thing is the Word of God. No one can take that away." He was able to thrive and begin dreaming for a different future. Realizing his God given talents, Jey became a deejay. He now lives near Atlanta, Georgia and travels for Compassion, sharing how the Compassion's ministry changed everything for him. "Compassion saved my life. All of my childhood friends are dead. When someone steals, or is a drug dealer, either the police or mob justice will take his life."
Jey's story haunted me. I could not sleep or rest. I have seen poverty first hand, but the story he told took me to a place I have never been. I have not walked the streets of Mathare, but the picture Jey painted plays in front of my eyes. In
58: The Film
, you are taken to the streets of Mathare. The Pastor of Jey's Compassion project takes you on a tour through the village. You see the ugali, the dead river, the bootleggers making the local brew, the boys sniffing glue with vacant eyes, the families crammed into 10 x 10 foot homes. The despair is tangible. After hearing the testimony, after watching the film, I am physically and mentally overwhelmed. I pray. I beg God to make sense of it all. I want to DO something. I want to know if there really is hope.
And I remember Jey. I remember his brilliant smile, his contagious joy, his kind heart. Yes, there is joy.
The story doesn't end here.
For me, it begins with the sparkling eyes of Catherine Wairimu.
She is my new sponsored child from, you guessed it, KE-373, in Mathare Valley.
Jey's eyes light up when I show him the picture. He says with delight, "She is from my tribe, from my sector."
"She might not know me, but when you write her, tell her about me. Tell her I got out, and that there is hope."
Psalm 40
"I waited patiently for the

Lord

;


he turned to me and heard my cry.
2 He lifted me out of the slimy pit,


out of the mud and mire;
he set my feet on a rock


and gave me a firm place to stand.


3 He put a new song in my mouth,


a hymn of praise to our God.


Many will see and fear the

Lord




and put their trust in him."
**This story is the result of a long, emotional week. God showed His power in many ways. This is how He worked in my life. Through Jey's story, 39 children were sponsored last week at the churches we ministered in. God is on the move with hope!